The central highland province of Lam Dong expects to attract a great number of local and domestic tourists in the third Tea Cultural Festival from December 25 to 27.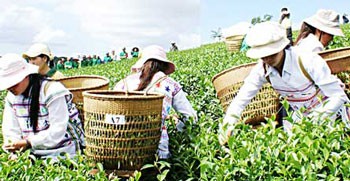 Tea picking competition

Numerous activities will be held during the event in Bao Loc, Bao Lam, Di Linh and Da Lat City's Cau Dat, such as a seminar on methods and conditions for development of the tea industry, an exhibition titled "Vietnam and Lam Dong tea industry 2010", a parade, "Night of tea drinking", singing contest, tea picking competition, music and art performances and more.

The opening ceremony honoring the tea industry and farmers, organizations and enterprises who contribute to the development of the tea industry, as well as to strengthen the position of tea growing in the province will be organized at the 28/3 (March 28th) Square in Bao Loc City on December 25.

The cultural event is also a chance for entrepreneurs and investors in tea growing, processing and doing business to meet, exchange experience and seek co-operative business as well as to promote tourism potentials of the province.