Lam Kinh Festival 2012 opened at the Lam Kinh Historical Site in Xuan Lam Commune of Tho Xuan District in Thanh Hoa Province on October 7.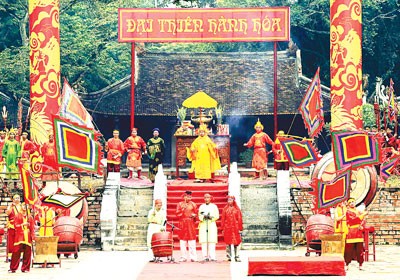 An art performance at Lam Kinh Festival
The festival marks the 594th anniversary of Lam Son Insurrection, the 584th anniversary of King Le Thai To's enthronement, and the 579th death anniversary of national hero Le Loi.
There will be a series of cultural activities such as a thurible procession in the relics of Le Thai To Temple, and incense offering ceremony in commemoration of national hero Le Loi, king of Le dynasty and national hero, who had made outstanding contributions in building and protecting the temples in the province.
Many traditional art performances, sporting and tourism activities, folk games will take place during the festival.
The event is also a chance for Thanh Hoa to promote tourism and travel destinations in the province to visitors.
The festival will be on until October 8.