The 'Lam Kinh Festival' will be held at the Lam Kinh Historical Site in Xuan Lam Commune of Tho Xuan District in Thanh Hoa Province from September 24-26.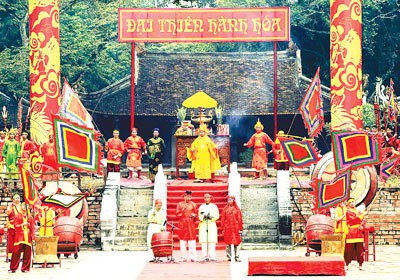 An art performance at Lam Kinh Festival
The event aims to celebrate the 595th anniversary of the Lam Son insurrection and the 580th anniversary of the death of King Le Thai To.
On this occasion, a ceremony to receive a certificate of national cultural-historical site awarded to the Lam Kinh Historical Site will be organized.
There will be a series of cultural activities such as revival of Lam Son rising up; King Le's enthronement; exhibition on Lam King architecture; and Thanh Hoa's development. Many traditional art performances, sporting and tourism activities, folk games will take place during the festival.
Additionally, documentary and feature films on Lam Kinh festival, Lam Kinh historical site and historical persons including Nguyen Thi Lo, Ly Thuong Kiet, and imperial concubine Y Lan will be screened during the festival throughout the province.