Model Nguyen Ngoc Lan Huong will represent the country to compete in the Miss Model of The World 2009, which takes place in China from November 9 to 29, it was recently announced.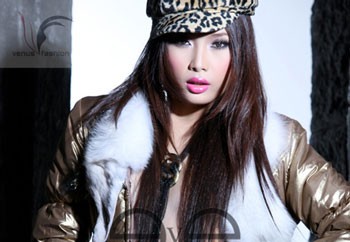 Model Nguyen Ngoc Lan Huong will travel to China for the Miss Model of the World 2009 in November.
The 1.75 meters tall, 19 year old model is new to the Vietnamese fashion industry and left a deep impression with the audience and jury at the 2009 Vietnam Super Model Contest in May. Since then, she has taken part in many fashion shows around the country.

Her strong points are beautiful face and attractive performing style.

Fashion designer Hoang Hai will prepare her evening gowns, meanwhile designer Thuan Viet will create an Ao dai for her to wear at the pageant.

The Miss Model of the World contest was founded in 1988 by Çevik Suha Alpayli of Turkey. The pageant has gone onto become the world's premier modeling contest.

The pageant has attracted more than 10,000 professional models from 70 countries over the past 20 years.

This year's Miss Model of the World draws more than 60 contestants from throughout the world.

In related news, Truong Thi May, the first runner-up of the 2007 Miss Vietnamese Ethnic Group beauty contest, who recently suffered a serious sprain when she fell down a flight of stairs, has missed a chance to take part in the Earth 2009 pageant in the Philippines in November, said Elite Vietnam.

With little time to find a replacement, Vietnam will be absent from Miss Earth 2009.

Related article:
Miss Ethnic Vietnam runner-up to compete in Miss Earth 2009