The annual lantern festival in Ho Chi Minh City's Dam Sen Park has just started and will keep going until the Lunar New Year, or Tet as it's called here.There are thousands of decorative multi-colored lanterns all over the park and they make for a dazzling display that is well worth seeing.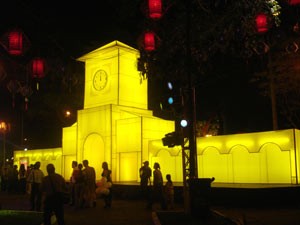 A lantern is designed following the replica of Ben Thanh Market. (Photo:TC)
To get everything ready for the big show took a long day's slog by a hundred Chinese artisans from the Sichuan Economy & Technology Trading Company and other firms along with 50 Vietnamese experts. It also took an outlay of more than VND4 billion.
The lantern designs include replicas of tourist haunts like Van Mieu-Quoc Tu Giam (Viet Nam's first university, built in 1076), One Pillar Pagoda, Thien Mu Pagoda and Ben Thanh Market, to name but a few.
Others are emblazoned with standard phrases like "Happy New Year" and "Peaceful and Prosperous Country" or with the brand names of the festival's ten corporate sponsors.
"Vietnamese enterprises are trying their hardest to advertise their brands these days, and this festival gives them an ideal opportunity to become better known. If they want to advertise on our lanterns, they should register with us before May 2, 2007," said Dam Sen's director, Mr. Nguyen Tuan Kiet.
"The new and outstanding features of this year's festival are the novel way of presenting Viet Nam's top brand names, and the cooperation between Vietnamese and Chinese artisans to develop relations between the two countries," added Mr. Ho Duy Hung, general director of the Phu Tho Tourist Service Company Ltd.