To mark the European Union's 50th anniversary, Spanish pianist David Gomez will play a concert on March 30 featuring Spanish and Latin American pieces at the Ha Noi Opera House, 1 Trang Tien St, in Ha Noi.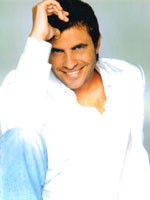 Spanish pianist David Gomez
The performance promises a taste of that "Latin feeling" via a panoply of music by South American, Mexican, Cuban and Spanish composers, including M.Ponce, Lecuona, Granados and J.Turina.
Born in 1974, Mr. Gomez was introduced to music at a very early age and has studied under many renowned professors.

He regularly performs as a soloist in many countries throughout the world and has received awards in several national and international contests including first prize at the II Piano Contest "Miguel Ballester I Serra" and second prize at the fifth International Piano Contest "Pio Tur".
Tickets for the concert are free of charge and can be reserved and picked up at the Spanish Embassy's Cultural Department on the 15th floor of the Daeha Business Centre, 360, Kim Ma Street, Ha Noi.