Conductor Hoang Diep will look back on her 30-year career at concerts in Ho Chi Minh City April 24-25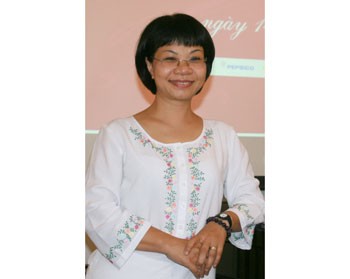 Conductor Hoang Diep
One of Vietnam's premier conductors for 30 years, and a leading educator at the Ho Chi Minh City Conservatory of Music for two decades, Diep is known for her strong spirit and burning passion for chamber music.
When she began playing chamber music, the local public simply wasn't very interested, but Diep persisted and helped the genre develop in Vietnam by organizing concerts, ceaselessly performing and lobbying the Government and the private sector to support classical music.
Diep will conduct the entirety of the upcoming concert at the Ho Chi Minh City Conservatory of Music. The music will be played by the Ho Chi Minh City Ballet Symphony Orchestra and Opera.
The group will present famous local works such as Tieng hat giua rung Pac Bo ( The Songs of PacBo Forest), Du kich song Thao (Thao River Guerilla), Noi lua len em (Light up the Fire), Trong Com (Traditional Drum) and the concerto Binh Minh (The Dawn).
Diep and her baton will also guide European classical works as well as Russian and Venezuelan folk songs and songs from the operas Cats, La Traviata and The Phantom of the Opera.
Several illustrious local artists will take part in the performance, including: People's Artist Tran Hieu, and singers including Thu Giang, Nam Khanh, Ngoc Tuyen, Trieu Loc, Nhu Ngoc, Anh Tan, Trieu Yen, Thanh Nga, Viet Thanh, and rock band Unlimited.
Diep, recognized by the Government as a Meritorious Artist, will award more than 20 scholarships to students from the Theory, Composition and Conducting Department at the Ho Chi Minh City Conservatory of Music.
The renowned conductor is also a member of the staff of the Vietnam Television's "Vietnamese Song" program, and is a frequent judge and consultant at singing competitions. She's also taken part in many musicology studies.
Free tickets for the concert available at the conservatory – 112 Nguyen Du Street, District 1 – and at Moco Advertising and Event Joint Stock Company, 24 Ho Bieu Chanh Street, Phu Nhuan District.