Backed by the latest in high-tech equipment, award-winningDJ Inquisitive will "boom up" Bounce Bar at Parkson Mall in District 1 on Friday night.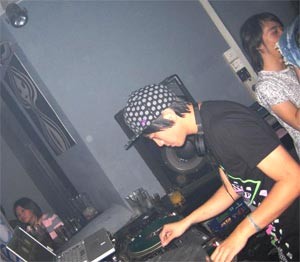 DJ Inquisitive performs at a discotheque (Photo: Asus Vietnam)
Inquisitive, otherwise known as Leon Ho, first stepped into the DJ world in 2005. It didn't take him long to build up a reputation for his unique style of "booming up" parties.  
The 23-year old DJ won the "Singapore DMC Championships" three years in a row, from 2006 to 2008, and took out the fourth prize in the international "DMC World DJ Championships" in 2007. He also won the "Best Newcomer" award at the "Motorola Super Stylemix Music" in 2007.  
Inquisitive has performed on stage with various popular artists like Kid Koala, Arrested Development, Cut Chemist, Diplo, Steve Aoki and Shinichi Osawa.       
On his first trip to Ho Chi Minh City this week, Inquisitive will use one of the most difficult DJ techniques – turntablism - using phonograph turntables and a DJ mixer to manipulate sounds to create music.  
The Friday night performance will feature high-tech equipment, including 13 Asus Liquid Crystal Displays. The sole sponsor of the program, Asus Vietnam, will also test the performance of its newest product, the Asus Lamborghini, which will support the performances by Inquisitive.