A filmmaking team from Thailand recently began to shot the first scenes of a documentary featuring the daily life of Vietnamese people living on the banks of the Mekong River.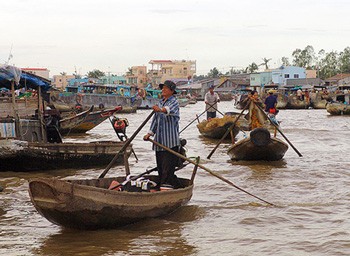 The file phto shows life a floating market in the Mekong Delta in Vietnam.

The footage will be aired in mid-June on Thai PBS Television in a programme entitled The Rivers of Life.
"The programme aims to capture the most lively scenes of people's daily lives in Southeast Asia and the Mekong River as a means to encourage more knowledge of the river," said Peeyada Prasutsaengchan, head of the filmmaking team. "They will have then the responsibility to preserve the river's resources and develop its values," she added.
The one-hour programme has been shown every Friday at 10pm since April 13 of this year. It can be watched on the internet at program.thaipbs.or.th/documentary or www.facebook.com/Theriveroflife.
This filmmaking team had visited Vietnam several times before to make documentary films all over the country. But this is the first time that Prasutsaengchan has come to Vietnam .
"I am very impressed by the floating market in Soc Trang Province on the Mekong River . It offers many occasions for people from different regions to meet and exchange their goods," she said.
In her eyes, the Mekong Delta is like a "green dragon" full of vitality in the rainy season.
"With its potentialities, the delta could soon become an attractive tourist destination," she affirms.