More than 50 literary works have been released by the Literature Publishing House this year to celebrate the 1,000th anniversary of the founding of Thang Long – Ha Noi.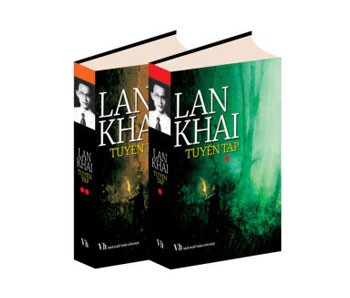 Lan Khai's collection
Song song Hong (Waves of Red River) by writer Thanh Hoa tells story of the most glorious period in the reign of Nguyen Hue (King Quang Trung), a national hero of the 18th century and the Tay Son Movement, a peasant uprising that released Vietnam from the shackles of feudalism.
Hanoi before the Autumn Revolution by Hoai Anh illustrates images of the capital from the beginning of the 20th century to 1943.
Lan Khai's collection, a 1,700-page book, includes the most valuable works of the leading Hanoi writer.
Love story of Queen Nam Phuong by writer Tran Thi Hao describes the traditional beauty of the official wife of the last Vietnamese King Bao Dai, whose maiden name was Nguyen Huu Thi Lan, daughter of a rich Mekong Delta family.
The autobiography of labor hero Le Minh Duc, Cuoc doi nguoi tho (Life of a worker), traces the roots of the organizer from his birth in the Mekong Delta Province of Vinh Long to his success as a leader in Hanoi.
The autobiography of Mr. Nguyen Hong Can, the former Deputy Minister of Fisheries; Vietnamese novels within 1945 and 1975 edited by Dr. Pham Ngoc Hien, PhD include many more notable historical and cultural stories.