Foreign works of literature, translated into Vietnamese, have become hot reads in the last few years, yet few Vietnamese works are read overseas
.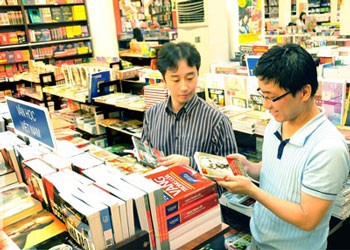 Korean students Choi Dae Hoon and Jung Hyun Woo look for Vietnamese literature works in Fahasa bookstore (Photo : An Dung)
Very few books are translated into foreign languages and read abroad such as the epic poem Truyen Kieu (The Tale of Kieu) by ancient poet Nguyen Du , Mat biec (Blue eyes) by modern writer Nguyen Nhat Anh; Chim en bay (The Swallows Fly) by Nguyen Tri Huan; Nhat ky Dang Thuy Tram (The Diaries of Dang Thuy Tram); a collection of modern short stories, Truyen and poetry anthologies of Huu Thinh, Vang Anh, Lam Thi My Da.
Most of works translated into foreign languages are conducted by individuals.
Even then, most are only published to meet the demand of the Vietnamese community overseas.
However, these releases cannot reflect the situation and give a comprehensive view of Vietnamese literature exactly.
A famous author said that if we want to promote Vietnamese literature overseas, we must provide what readers want.
Vietnamese books are unlikely to attract the attention of international readers if the country does not have any outstanding literature. The writers should show the content and idea of their works, which are easily understood by readers worldwide, in spite of the differences in culture and history, the author added.
Foreign publishers are willing to support the export of Vietnamese literature, but there are no outstanding works to offer them, said Pham Minh Thuan, director of HCM City Fahasa Book Distribution.
Phan Thi My Hanh, director of Phan Thi Publishing, said that her company has posted some volumes of the "Vietnamese Prodigies" comic book in English on the Internet to grab the attention of foreign readers and young overseas Vietnamese.
Vietnamese literature is not widely known outside of the country, with local publishers and distributors lacking the ability to publish books for overseas sales.
The Government should issue policies and long-term plans for the export of Vietnamese literature.