A live link-up television program marking the Dien Bien Phu Victory in 1954 was held at the Dien Bien Phu Victory Monument in Dien Bien Province's Dien Bien Phu City and Reunification Palace in Ho Chi Minh City on April 27.

Leaders of HCM City and Dien Bien Province, Vietnamese heroic mothers, war veterans were present in the TV show.
The event themed Nhung nam thang khong the nao quen (Unforgettable days) designed three parts, consisting of Memory of Dien Bien, From Dien Bien Phu to Ho Chi Minh City and Historical Rendezvous.
The program was to tribute to martyrs and wounded soldiers. This is opportunity to meet with historical witnesses during wartime, such as colonels Nguyen Can, Hoang Dang Vinh, Nguyen Kim Sang and Nguyen Boi Giong, musician Nguyen The Vinh.
The TV program also aimed to celebrate the 39th anniversary of the National Liberation Day (April 30) organized by Ho Chi Minh City Television and Dien Bien Province Television.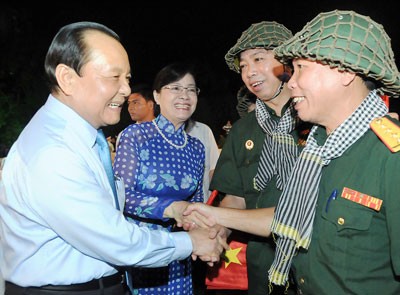 Secretary of the Party Committee of Ho Chi Minh City Le Thanh Hai meets soldiers at the live link-up television program. (Photo: Sggp)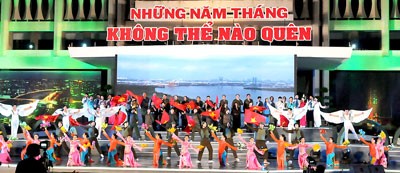 A performance in the TV show (Photo: Sggp)