A live TV program entitled "Supernatural Viet Nam" will take place simultaneously in the heart of Ho Chi Minh City, Cu Chi District and Dien Bien Phu City in the northern province of Dien Bien on July 25 in memorial for the 60th Dead and Wounded Soldier Day (27 July).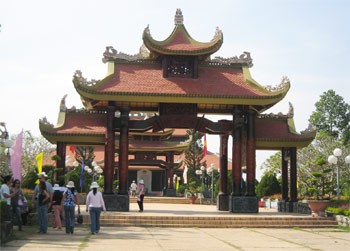 Ben Duoc Temple in Cu Chi District, HCMC, is one of three places where the live TV program to be held. (Photo:KK)
The show has three parts, including "Nothing is more valuable than independence and freedom", which aims to honor those people who sacrificed their lives and struggled for independence and freedom for the country.

A second part entitled, "Drinking water, think of its source ", aims to highlight the Party guidelines and State policies for war invalids, martyrs, and people who contributed to the revolution.

The third part of the program will present achievements in defending and building the country, called the "Power of solidarity".
30 Five-minute pre-programs titled "Gratefulness" about wounded soldiers' daily lives are being broadcast everyday on HTV9 and HTV 7 from now until July 25 to publicize the live TV program and raise fund for such invalids.
On stage, there will be nearly 700 artists highlighting historical events. The show is being co-organized by Ho Chi Minh Television and the Cat Tien Sa Performing and Advertising Company.