Inspired from his documentary film 'The digger' shot in the southern sunny land of Viet Nam - Phan Rang years ago, director Bui Thac Chuyen developed the subject of mine clearing into a film drama. 
 
The story is about a brave soldier called Tai who returns home from the outrageous war. He has enough courage and creativity to sweep the many mines left, turning the deadly land into a green field.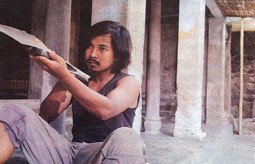 Character Tai in the film
 After the war was over in 1975, Tai and other soldiers of the old Saigon regime arrive at a 'new economic zone', which used to be a battlefield, still covered with thousands of unexploded mines. New houses are built only on areas where mines have been swept. Next to them is large uncultivated land associated with death because sappers have not done their job. The farmers can not do anything but looking at the vast land in front of them and starving.

It is the most difficult time of Vietnam when people have to save even a handful of rice in the endless fear for life. And some of them cross the barbed wire separating people from the dangerous area to collect military junk, pieces of barbwire and even mines, selling to junkshops. Mines explode, people die… Still they do not care. The struggle for life is going on, because hunger is even more frightening.
 
The young man Tai is one of those people. However, he stays alive. He knows how to control those uncontrollable mines and turn the deadly land into a field of his own. His character is as vivid and realistic as the simple life at the countryside.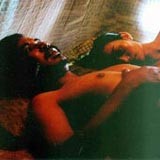 A scene in the film
Quyen and Nam are the two other interesting characters in this film. From the beginning, Quyen – a revolution-officer gives an impression by her unsympathetic voice in contrast with the rustic appearance of Nam. Nam's one-sided love for Quyen waters the barren land. He loves her without telling her, even when she gets married and later becomes a widow. He is always by her side even when she suffers the most. He follows the revolutionary force because she tells him to. He sweeps mines because she does so. He stays in this land because she is there. His true love is never revealed until he dies. She knows only when everything was too late. There are only tears left. And the audience is deeply moved…

Tai's love for his two wives is expressed simply but intensely. The way he makes love with his two wives shows the troubled mind of a man standing right on the edge of death. He does so to forget all the fears, after spending time on the deadly field. In an atmosphere of concern and worries, a humorous incident happens: Tai's two wives give birth to two babies at the same time!

The audience laughs and cries during ninety minutes of screening. And they remain in their seats as much as thirteen minutes to recall the incidents of Tai's life, the breathless fear and the signs of lovingness…

'Living in Fear' is an outstanding film. It will be sent to international film festivals and be acclaimed with awards. Paradoxically, the Director of "Story Film Company I" is trying hard to screen the movie in Vietnam. But just like "Buffalo Boy", another outstanding film, the cinema business is reluctant in screening home-made films on the fear of low ticket box. Another fear, perhaps.

 - Wide-screen film
 - Re-written by Bui Thac Chuyen, Nguyen Thi Minh Ngoc
 - Starring Tran Huu Phuc, Ngo Pham Hanh Thuy
 - Produced in 2005