Hanoi (VNA) - Vietnam's representative Pham Hong Thuy Van was the third runner-up at the Miss International 2015, which took place at Grand Prince Hotel Takanawa in Tokyo, Japan, on November 5.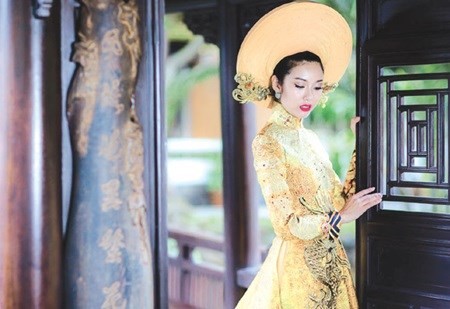 Pham Hong Thuy Van of Vietnam seen in a national dress. She finished fourth at the Miss International 2015 (Source: vnexpress.net)
Edymar Martinez of Venezuela was crowned Miss International, followed by Jennifer Valle from Honduras, and Kenya Eunice Onyango.
Miss International 2014 Valerie Hernandez of Puerto Rico presented her successor the crown, created and designed by Mikimoto, the world's leading producer of cultivated pearls.
Vietnamese Van was the first runner-up of the National Miss Ao Dai (Traditional Dress) Contest in 2014 and appointed to represent Vietnam at the Tokyo contest.
The 22-year-old is an MC at the Finance Business News Corporation channel of the HCM City Television Station and the show Asia's Got Talent.
Van was named the latest among the contestants who entered the top 10 after three performances with national costume, swimsuit and evening gown.
Responding to the question on what she would do if was crowned the winner of the contest, Van said, "Despite staying for only a few weeks in Japan I found it to be a beautiful country with friendly people. Moreover, I have a dream that one day every country in the world can be like Japan.
"If I am Miss International 2015 I will have opportunities to make the dream come true.
"I would like to use my voice, my confidence, my influence and my actions, to inspire the people in the world to believe in hope and dreams. I hope for a world without war and violence, a world with only peace and happiness," Van, who was also one of top 20 beauties who received the most attention through social media networks, said.
Van's result is the best by Vietnam at this contest and also the three top world beauty contests of Miss Earth, Miss Universe and Miss World.
The Miss International beauty pageant is promoting "Love Peace and Excitement to the World" while contestants are expected to serve as "Ambassadors of Peace and Beauty".-VNA