Explore the world of comics in Tet, Vang Anh Culture Co. advises its comic fans as it publicizes the February festival 'Otaku and Teen Festival 2009'.
The symbol of Otaku and Teen Festival 2009
The festival in Le Thi Rieng Park, district 10, is set for Feb. 8 and expected to welcome over 10,000 guests to visit 30 booths with various manga and anime on show and sale.
The Sunday morning will host three traditional dances from three countries: Vietnam (kylin dance), Japan (Gosakoi) and South Korea (folk dance).
National record holder Phu Thao, who is popular for his shadow cutting (a technique to estimate the size of a human face and outline the face on black paper without drawing and cut the body shape), will also appear at the festival to cut and give away 500 free shadow products.
In addition, guests will not want to miss special performances by the stuntman group led by Lu Dac Long and catch some secrets in the art of movie making.
A conference, 'Valentine's Day – Explore the emotion of first love', will also be held and will allow the young to listen to and ask questions about first love to psychologist Huynh Van Son and other special guests, including writer Bui Chi Vinh, Dr. Phan Hong Anh, film director Doan Quang Anh Khanh and actress Phi Thanh Van.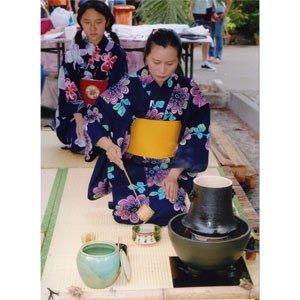 Guests will be able to learn Japanese tea making (Photo: Vang Anh Co.)
After the noon break, various activities will be held, including performances on stage of graffiti artists, a singing contest (anime soundtracks only), a quiz for manga and anime fans, and an anime/manga themed fancy dress contest.
The highlight of the afternoon will be the forum 'Me & Comics', which is expected to be a helpful guide for fans to choose and read quality comics. This forum will also help fans to recognize the differences in comic book styles in Vietnam, South Korea, Japan and China.
The evening show will award the best fancy dress, the winner will receive VND7 million ($410). The festival will finish with a masquerade ball.
For further information or tickets, log onto the website
www.vanganhco.vn
or contact the Vang Anh Shop in Phu Nhuan district.
The anime and manga festival is an annual festival held since 2008 by the Vang Anh Culture Co.Ltd.