Vietnamese male supermodel Tran Ai Duy Nhan and his female counterpart Mai Hong Nhung will represent Vietnam at the Global Harmony Star Ambassador 2010 pageant in Nanning, China from June 17-26, a spokesperson from Elite Vietnam Entertainment Group (EVE) announced April 5.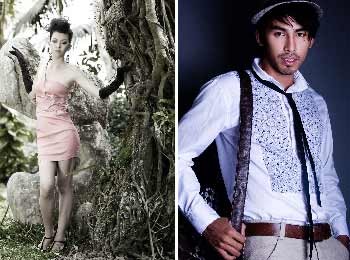 Supermodels Mai Hong Nhung (L) and Tran Ai Duy Nhan will represent Vietnam at the "Global Harmony Star Ambassador 2010" pageant in China from June 17-26 (Photo: EVE Group)
The EVE Group is the sole agency responsible for selecting and sending contestants to the pageant in China. According to EVE, preparations have been completed for the pair to fly to China on June 17.
Nhan and Nhung will also be traveling with several costumes to wear during their performances at the event. These include traditional ao dai (Vietnamese tunic) created by renowned designer Vo Viet Chung, an evening gown for Nhung from the local Son Collection, and formal evening attire for Nhan made by MosChino. 
Nhung will also wear some of the latest fashions from the E.R. collection.
The candidates are now busy training and preparing to represent their homeland by showcasing their personalities, talent and poise at the competition.
Nhan, 24, stands 1.82 meters tall and lists his measurements as 98-76-96. He is currently enrolled in a bachelor's degree course at Van Lang University. After his breakout year at the Supermodel 2009 contest in Vietnam, Nhan turned to acting and has starred in the TV series Sieu mau Xi Trum, Co nang bat dac di, and Hoang hon me. He is also a familiar face at most local fashion shows and in magazines.
Nhung, 21, also rose to stardom after taking part in the Supermodel 2009 pageant. The 1.78-meter tall model, with measurements of 84-63-92, is pursuing a career in fashion while working to complete a bachelor's degree at the HCMC Tourism and Hotels School.
Global Harmony Star Ambassador will be held for the first time in Nanning in mid June with participation of over 50 university students from 30 countries.
Contestants must be between the ages of 18 and 28; never have been married; be enrolled in university; stand 1.72-1.8 meters tall for females and 1.8-1.9 meters for males; be well-respected in the fashion industry; and speak English.