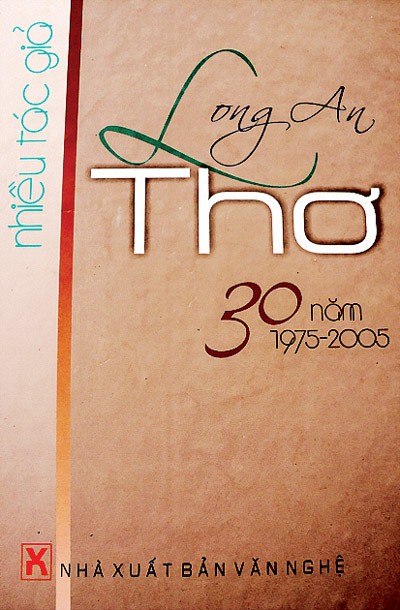 The cover of the book
The Ho Chi Minh City Arts Publishing House has published anthologies on Long An Province for the last 30 years, from 1975 to 2005, compiled by the Union of Arts and Literature in the southern province of Long An.
"Collection of Long An Poems" introduced 81 authors, poets, and journalists who participated in the last War against America fought on Long An soil, showing their deep attachment to the land, and love for the people of Vietnam. Tran The Tuyen, Khuyenh Diep, Mac Tuyen, Vuong Thua Binh, High Cao Thoai Chau, Diep Vam Co, Nguyen Quang Thong, Le Hoang Dung, Dinh Thi Thu Van, Hoai Van, Hoai Vu, are just some of the names who have contributed to the collection of poems.
Long An Province is the southwest gateway to Ho Chi Minh City and is considered the land of emotional feelings, a source of endless inspiration for poetry, music and the creative arts.
Musician Truong Quang Loc who was not born and raised in Long An Province, has still written emotionally of poets born on this alluvial land for the past many years.
Truong Quang Loc, like many other musicians continues to set the collection of poems in the anthologies to strains of music.
Recently he has also composed new songs, "Mother of Long An Land" based on a poem by Le Hoang Dung, that describes the salty taste of the Vam Co River, situated in the heart of Long An, offering a heart that is ready to love.
With such creativity and sensitivity, the authors have created a unique style in music and art in the "Collection of Long An Poems".