The Long Island Youth Orchestra (LIYO) with young musicians from Long Island University in New York will be performing two concerts in Ho Chi Minh City (HCMC) on July 15-16.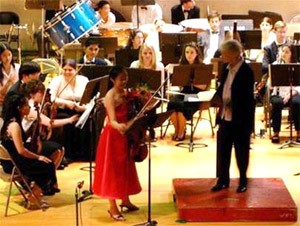 Long Island Youth Orchestra.
All proceeds from both performances will be donated to Operation Smile to fund surgeries for Vietnamese children who suffer from the congenital facial deformities of cleft lip and cleft palate. 
 
The first concert will start at 8:00 PM on Saturday night at the HCMC Conservatory of Music, and the second concert will be held at 2:00 PM on Sunday afternoon at the Windsor Plaza Hotel. 
 
The performances here are part of a China and Southeast Asia tour for the orchestra. They began their tour on June 29, with performances in Beijing, Nanjing, Kunming, Ha Noi and Hoi An before their arrival in Ho Chi Minh City. The 2006 summer tour of LIYO will last until July 31.
 
Throughout its 44-year history, the Long Island Youth Orchestra has made 35 summer concert tours to virtually every corner of the globe and has performed in some of the finest opera houses and music halls around the world. 
 
Many of the 2,000 alumni of the orchestra have gone on to professional careers in many of the world's great orchestras, while others have become teachers of music to countless future musicians. 
 
The director of the orchestra, Mr. Martin Dreiwitz, who is also its founder, formed a 57-member orchestra made up of young instrumentalists in September 1962. Today, the orchestra consists of more than 100 members.