A hundred models will put their beauty and talent under the spotlight at a fashion and music show which is expected to be organized in Ho Chi Minh City entitled "Festival Night of Long Legged Beauties" on May 22 . On Monday, a part of show opened in Ha Noi.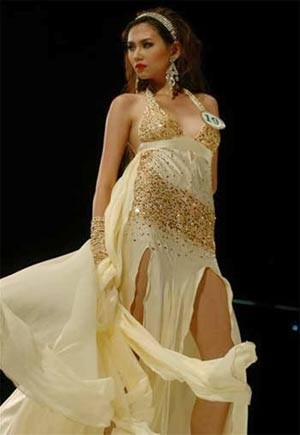 Model Hoang Yen is to make appearance at the show
Male and female catwalk stars Binh Minh, Minh Trieu, Dzoan Tuan, Duc Tien, Thanh Hang, Bao Ngoc, Phi Thanh Van and Chung Thuc Quyen will take part in the show, which will climax on May 22.
Over 100 entertainers, including singers, actors, photographers, designers, make-up artists and hair stylists, will appear at the show.

Color will be added to the show by musical performances, according to Venus Fashion, the agency organizing of the event.

Outstanding beauties will be crowned "Queens of the night" on the basis of votes by guests in three categories: "Best evening gown," "Best style" and "Best Body".

Two fashion collections, one by the U.S. brand Levi and another by designer Hoang Hai of Ha Noi will also be introduced during event.

Mr. Khac Tiep, director of Venus Fashion, said the company plans to develop the show into an annual event and hopes that May 22 will be officially recognized as Model's Day.