Tens of dug-out canoes are paddled fast by young men and women in indigo dress. Women hold the oars; men show their skills to catch ducks swimming on the lake. From the lake shore, beautiful songs are heard amazing the tourists.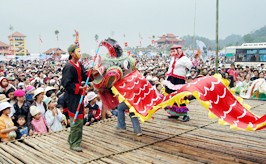 A Long Tong (Going to the Field) Festival in Ba Be District, Bac Can Province.
Many tourists say that Long Tong Festival in the northern province of Bac Can is most original and interesting. The scenery of Ba Be District is very beautiful with Ba Be Lake, one in 20 most beautiful fresh water lakes in the world, and immense primary forests greeting springs by the mountain sides, covered with red peach, spotless white plum and apricot blossom.
From the five day to the last day of the first Lunar month of the year, ethnic people in the northern mountainous areas are animated with festivals that have created a rich and diverse cultural tradition. Festivals are considered an important factor in their spiritual life with unique and distinctive features. One is the Long Tong Festival (Going to the Field).
Many of the largest Long Tong festivals are held nine to ten days after the beginning of the Lunar New Year. Some of the largest are in Dinh Hoa District, Thai Nguyen Province, and Yen Son, Chiem Hoa and Na Hang of Tuyen Quang Province and Ba Be District of Bac Can Province.
Each place has its own special features, in Tuyen Quang, people organize 'Miss Village,' tug-of-war for buffaloes, and many other such events.
In Thai Nguyen Province, tourists can enjoy unique performances of stick puppets.
Large or small, Long Tong festivals everywhere have the same worship ceremonies. The festival begins with a ritual for good crops – villagers set up an altar to offer gifts to the God of Agriculture and pray for good harvests. Witch doctors will read a prayer and conduct ceremonies to pray to heaven and earth, gods of mountains, agriculture, and streams and patron deities who protect the health and safety of villagers.
The ceremony closes with a prayer session to relieve people of their run of bad luck and pray for health and safety in the New Year.
Going to the field is the most important aspect of the festival. At a very fertile rice field, the best farmer will whip his buffaloes or oxen to draw the first ploughs to begin a new crop. After the festival, farmers will begin to sow.