Luu Hien Trinh from Hai Phong City has won the annual 'Tieng Hat Truyen Hinh' (TV Singing) contest organised by Ho Chi Minh City Television (HTV).
Trinh, a 21-year-old student from the Vietnam National Academy of Music impressed judges with her well-trained voice, confidence and emotional performance, defeating seven other finalists--four men and three women--in a month-long final round.
At the grand finale held at the HTV Theatre last Friday, Trinh performed the contemporary folk song 'Con Quay' (Top) composed by Luu Thien Huong, one of the judges.
She also sang a duet 'Mong Anh Ve' (Hoping for Your Return) by composer Duong Cam, with pop singer Duc Tuan.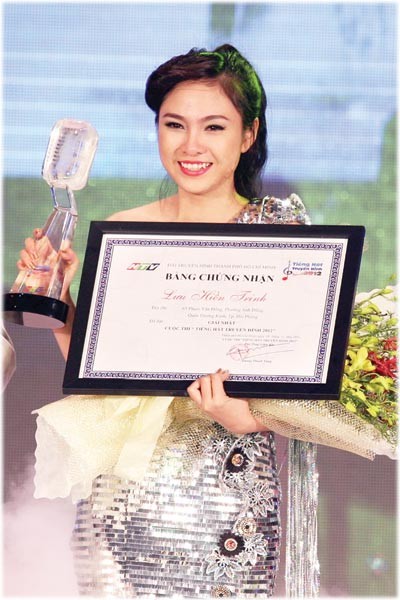 Luu Hien Trinh wns 'Tieng Hat Truyen Hinh (TV Singing) contest organised by Ho Chi Minh City Television (HTV). (Photo: Thanh nien )
She was awarded 19.9 points out of a total of 20 by the judges.
Y'Jalin Ajun from Tay Nguyen in the central highland province of Dak Lak, was the runner-up with a score of 19.79 points. He sang a song by Nguyen Cuong titled 'Xon Xang Menh Mang Cao Nguyen Dak Lak' (Immense Plateau of Dak Lak).
He also showed his talent when singing a romantic song with singer Thanh Thuy--Phuong Hong (Flamboyant) about school love, with music composed by Vu Hoang and written by Do Trung Quan.
Ajun won the Favourite Performer prize with 27.3 percent of audience votes.
Tran Tuan Hoa from Hanoi finished third with 19.73 points. He sang a solo 'Me' (Mother) by Phu Quang, and a duet 'Ru Doi Di Nhe' (Lullaby to Life) by late composer Trinh Cong Son with singer Thanh Lam, also a judge at the contest.
The winner received VND100 million (US$1,000) in prize money, while the first and second runners-up receiving VND60 and 40 million, respectively.
In the final round, the contestants performed songs in different genres and on selected topics, including patriotic as well as folk and pop compositions.
This year's contest attracted 1,200 participants aged 16 to 28 in the preliminary rounds held in September.
Held successfully for the last 21 years, the TV singing competition organized by HCMC Television has become a professional ground for music players. From this competition, several artists and singers have been picked and have made positive contributions to the cultural and artistic movements of HCMC and the country such as Thanh Thuy, Duc Tuan, Nam Khanh, to name a few.