The traditional boat race festival, which has been observed for more than 300 years in the Ly Son island district of central Quang Ngai province, is seeking recognition as part of the national intangible cultural heritage.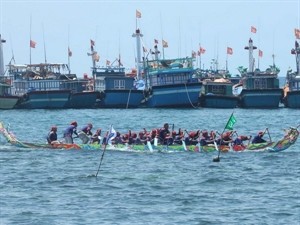 (Photo: VNA)
According to Chairman of the district's People's Committee Tran Ngoc Nguyen, the provincial Department of Culture, Sports and Tourism is working with relevant agencies to collect and supplement documents featuring the festival's unique cultures and values relating to national sea and island sovereignty.
The dossier will be submitted to the Ministry of Culture, Sports and Tourism, he said.
The traditional boat-race festival is organised between the fourth and eighth day of the Lunar New Year in commemoration of the ancestors and combatants who sacrificed their lives to safeguard national sovereignty over the Hoang Sa (Spartly) and Truong Sa (Paracel) archipelagos.
It also prays for peace and prosperity of local fishermen.
During the Nguyen Dynasty ( 1802-1945) , the festival was organised to choose the healthiest men for the naval fleet patrolling the Hoang Sa Archipelago.