After achieving success with role as ateam member of Tom Cruise's spy in "Mission: Impossible III", Maggie Q, an Asia actress is joing Bruce Willis in "Die Hard", directed by Len Wiseman.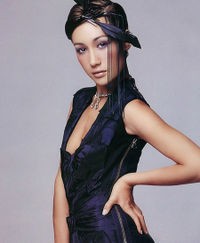 Maggie Q
The 20th Century Fox project centers on an attack on the U.S.' computer infrastructure that begins to shut the country down. The mysterious figure behind the scheme has figured out every digital angle but never counts on an old-fashioned "analog" John McClane, played by Willis.
Justin Long is also joining Die Hard, the fourth installment of the "Die Hard" series.
Long will play a smart, younger guy who assists McClane. Maggie Q will play a world-class hacker at odds with McClane.
Production begins this month. Len Wiseman is directing.
Long, who appears in the popular Apple Computer ads as the Mac, most recently starred in the college comedy "Accepted."
Maggie Q might best be known for being a team member of Tom Cruise's spy unit in "Mission: Impossible III." She next appears in the comedy "Balls of Fury," with Christopher Walken and Dan Fogler, scheduled for release in January.
Source: Reuters