Mai Kieu Lien, CEO and chairwoman of Vinamilk, Vietnam's largest dairy producer, has been listed as one of the best CEO's in Asia by a business magazine.
The Hong Kong-based Corporate Governance Asia Journal on May 13 named 58-year-old Lien, the only Vietnamese representative on the list, next to a stream of leaders of China Telecom, HTC, San Miguel, LG, etc., as one of Asia's best CEO's.
Other Asian CEO's honoured include some from China, the Philippines, Taiwan (China), Indonesia, India and South Korea, who all were appreciated for leading their enterprises through hardships and the recent global economic recession.
The awards ceremony is scheduled to take place on June 20 in Hong Kong.
In March this year, Lien was included among the 50 noteworthy influential businesspersons on the 50 Power Businesswomen list in Asia, according to the organising board of the journal and economic experts of Forbes, the US business magazine.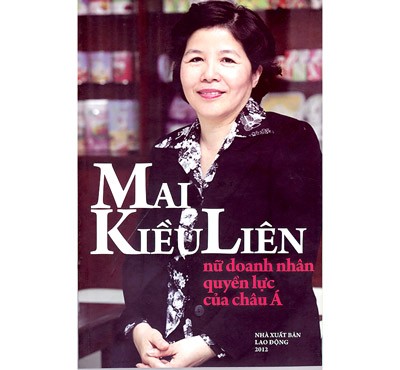 The cover of the book titled "Mai Kieu Lien, influential Asian Businesswoman"(Photo: SGGP)
Forbes chose Ms. Lien for "having built the company not only into one of Vietnam's most profitable brands but also a respected name across Asia."
The inaugural Asia's 50 Power Businesswomen focuses on honouring businesswomen who are actively engaged in profit-making enterprises, Forbes said.
Catering to demands of Vietnamese readers, Labor Publishing House brought out a book titled "Mai Kieu Lien, influential Asian Businesswoman" for her contribution to the business development of Vinamilk for the last 20 years, her social responsibility, environment protection work and also her efforts to increase the standards of enterprise management in Vietnam.
In 2010, Vinamilk also received the Forbes Asia 2010 Best Enterprise Award among Top 200 best enterprises in Asia.
Last year, Vinamilk achieved a revenue target of US$1 billion, one year earlier than expected. The diary producer posted total revenues of VND22.279 trillion ($1.06 billion), up by 38 per cent against 2010.
Vinamilk also surpassed export turnover targets to reach $140 million, the highest rate the company has ever enjoyed.
The company said it is aiming to become one of the world's 50 largest dairy producers, with annual revenues of $3 billion by 2017.