A man from the Chau Ma ethnic minority group in the highlands province of Lam Dong has collected , edited and inspired his group's folk songs which slept for years.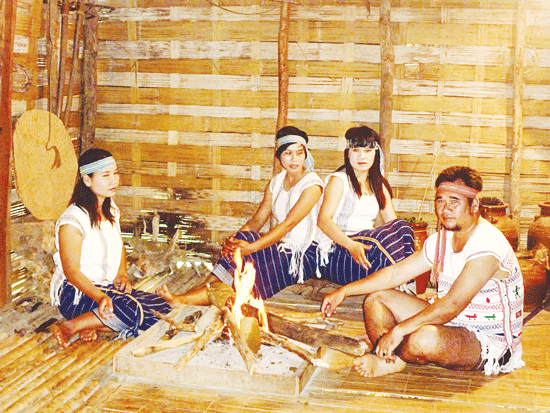 K'Brem are with Chau Ma girls (Photo: SGGP)
His name is K' Brèm, deputy chief of mobile team of the Culture and Sports Center in Bao Lam District.

K' Brèm said that he grew up in a village in the Chau Ma ethnic minority; accordingly he had listened to melodious tunes of folk songs when he had been on his mother's back or when had been going to fields in the mountains.
Thus these tunes are in my blood, he said.
The faces of villages of the Chau Ma ethnic minority in Loc Bac and Loc Bao communes in Bao Lam District in Lam Dong Province have changed.

From time to time, folk songs have been lost. K' Brem has silently collected and edited these tunes with the hope to preserve and passed down to generations. He has traveled from villages to villages to collect the precious tunes ; sometimes he talks to seniors of a village besides fires or follows people to fields in the mountains from break dawn until dark.

For 15 years of collecting tunes, K'Brem has collected 6 ancient folk songs of the Chau Ma ethnic minority. Of them he has edited four to become finished songs. Especially Kok Kech song ( Words of Nature) has won the A prize at the festival of folk song in 2007 held by Vietnam Television.