Many overseas Vietnamese singers and actors have returned to their homeland to either perform or settle down in the country and develop their careers.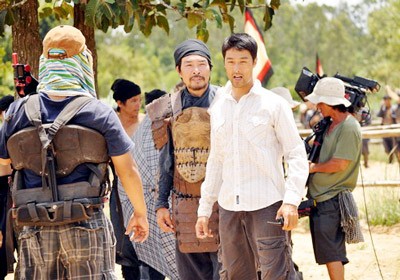 Actor Johnny Tri Nguyen (white shirt) was martial arts director for the film Khat Vong Thang Long (Thang Long Aspiration). (Photo: SGGP)
Most of them already have a place in people's hearts such as Charlie Nguyen, Johnny Tri Nguyen, Duong Trieu Vu and Nathan Lee.
Charlie Nguyen, who has received success as a director for films like De Mai Tinh (Deal with it tomorrow), Long Ruoi (Gang Boss) and Cuoi Ngay Keo Lo (Love Puzzle), is popular with Vietnamese audience.
"After making the film De Mai Tinh, I realise that conditions for making films in the country are better. I have more opportunities to make films for local audiences. The Vietnamese movie industry has developed and the increases in box office revenues show optimistic signs," he said.
Director and actor Johnny Tri Nguyen is currently making an action film titled 'Saigon-Cho Lon Age'. He is one movie star who has won audience hearts with many films like Hon Truong Ba Da Hang Thit (Truong Ba's soul in butcher's body), Saigon Nhat Thuc (Saigon eclipse), Choi voi (Adrift), Nu Hon Than Chet (Kiss of death), Bay Rong (Dragon Trap), Dong Mau Anh Hung (The Rebel) and Cuoi Ngay Keo Lo (Love puzzle).
He has been martial arts director of historical movies like Khat Vong Thang Long (Thang Long Aspiration) and Thien Menh Anh Hung (Blood letter). He has just opened a martial arts school in District 7 in Ho Chi Minh City.
On the other hand, singers Duong Trieu Vu and Nathan Lee have released impressive albums that have received rave response from music lovers in the country.
Overseas artists have been welcomed back home where they have a chance to be successful and also avail of good conditions to develop their careers.