Vietnam's largest-ever mass performance of Xoe dancing - a folk genre practiced by the country's Thai ethnic group - took place to celebrated the northwestern mountainous province of Yen Bai's emergence as a cultural destination.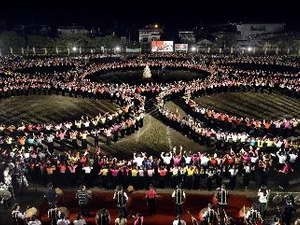 Mass Xoe dance performance by more than 2,000 dancers. Photo: VNA
With over 2,000 local artisans and actors taking part in Nghia Lo town's stadium on the evening of September 29, a new record was set and the approval of a major project to develop the town into a destination of culture and tourism in the 2013 – 2020 period was marked in appropriate style.
Xoe dancing, a unique feature of Thai culture, plays a significant role in the traditional dance canon of Vietnam . It depicts the daily lives of the country's Thai people and shows their wish for a peaceful and prosperous life.
Xoe is an important collective dance of the Thai people, especially in the northwestern region. In total, Xoe comprises about 30 different dances.
The dance charms with its gentle and alluring rhythms. Dancers usually form a circle around a festive flame and move to the sound of melodic traditional music.
The dancers at the Nghia Lo performance, dressed in the traditional costume of the Thai ethnic minority, performed six core xoe dances while music was played by 50 traditional instrumentalists.
Three large LED screens were placed in different positions to ensure everyone in the huge audience could enjoy the performance.
Hoang Thi Hanh, Vice Chairman of the People's Committee of Nghia Lo town and head of the Organisation Board said three experts on Thai culture who have helped to popularise the six dances were invited to help arrange the performance.
Various cultural, sports and tourism activities have also been organised in the locality, including a buffalo fighting festival.