He is one of the four Vietnamese leading calligraphers, including Le Xuan Hoa, Lo Cong Nguyen and Lai Cao Nguyen with a PhD degree in Han script (Chinese characters) and Nom script (ancient Vietnamese script).
Born into a family with a tradition of Confucianism, he was introduced to calligraphy pens at 6 years of age. He graduated from Hanoi University of Pedagogy and has achieved a PhD degree in Han Nom. He aslo was a cadre and a lecturer of many great universities and research institutes.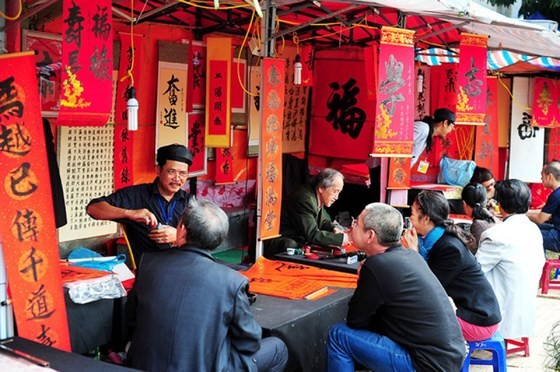 On the occasion of Tet, the calligrapher has appeared in Pho Dong Do (calligraphy street) inside Van Mieu – Quoc Tu Giam (the Temple of Literature) in Hanoi since 1998. Most people always wait for him. They want to see and have his works for luck.
Buying calligraphic works is one of the indispensable Vietnamese New Year traditions which is believed to bring purchasers good luck and prosperity.
This year's event will see 60 calligraphers who ho passed a qualifying test to join the event will wear traditional costumes, writing and selling nice words in calligraphy to customers.
Along with the calligraphy writing activities, the festival will also include areas of folk game, traditional carft villages, traditional market, food fair and others.
Hanoi's Spring Calligraphy Festival will take place from January 29- February 17.