The world famous Chinese American chef Martin Yan traveled to Ho Chi Minh City to exchange with students of KOTO Saigon, a non-profit-organization supporting young street kids on the occasion of the broadcasting of the English version of the reality show 'Martin Yan-Taste of Vietnam' on the Asian Food Channel (AFC).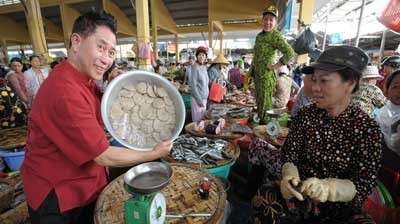 Martin Yan at Xom Moi Market in Nha Trang City during his journey for the reality show 'Martin Yan-Taste of Vietnam' (Photo: Tuoi Tre)
Mr.Yan with trainees of KOTO Saigon had a great time together in exciting cooking courses where he skillfully displayed his talents and told the story of his life to students.

Yan was born in Guangzhou, China. His father died when he was 5 years old. Yan began to cook at the age of 12. During this time in Munsang College, he worked at his uncle's Chinese restaurant and learned about the traditional method of Chinese barbecue there.

Success is not about how much money we have, success is  having a family and doing what we like to do, he said.

In the 26-episode reality show, 'Martin Yan-Taste of Vietnam',  the world famous Chinese - American chef Martin Yan will take audiences on a journey throughout the country and introduce the Vietnamese nature, culture, cuisine and people through his trip. He will also demonstrate his cook secrets and techniques.

The show has been televised on HTV Vietnam and on Asian Food Channel, which covers several Asian nations and territories like Singapore, the Philippines, Malaysia, Indonesia, Thailand, Cambodia, Myanmar and Hong Kong (China) very Friday at 6pm.