A series of investment, economic, cultural, and educational events were on show at a program titled "Meet Vietnam" that was held in San Francisco, the US, on November 15.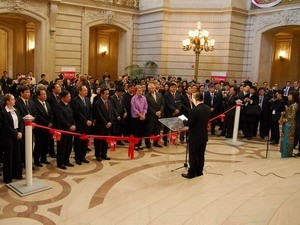 The opening ceremony of the program "Meet Vietnam" is held at City Hall in San Francisco, the US, on November 15. (Photo :VNA)
A 300-strong Vietnamese delegation took part.
The inauguration was followed by a display at City Hall titled "Vietnamese space" which featured images and objects of Vietnamese culture, music, and other arts.
There were seminars on Vietnamese education and tourism-aviation on November 16.
The opening ceremony was attended by Deputy Prime Minister Truong Vinh Trong, Ambassador to the US Le Cong Phung; Consul General in San Francisco Le Quoc Hung, officials from the Ministries of Foreign Affairs; Education and Training; Planning and Investment; Culture, Sports and Tourism; and Information and Communications; and leaders of Ho Chi Minh, Can Tho, and Da Nang cities.
The US side was represented by California State senator Loni Hancock; US Ambassador to Viet Nam, Michael Michalak; the mayor of Berkeley, Tom Bates; and San Francisco city officials.

Related article:
US show to offer glimpse of Vietnam culture