A festival to commemorate the 330th anniversary of the establishment of My Tho City in the Mekong Delta Province of Tien Giang will be held December 14-20.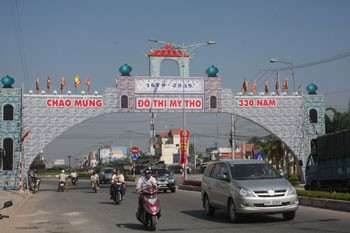 Welcome gate of the festival in My Tho City (photo:TTO)
A grand opening ceremony will feature images of the city over the past 300 years and highlight its robust development from the resistance war onwards. The event will also underscore the city's vision for growth to 2015.
A series of activities will take place including worshiping ceremonies, traditional music performances, a fashion show of My Tho costumes, a trade fair, an exhibit of the city's socio-economic achievements, a food fair, and folk games.
My Tho is also the site of several prominent historical events like the waterway military campaign of Rach Gam-xoai Mut (1785) by the Tay Son army who defeated the fleet of Siam; and the anti-French uprising led by national heroes Thu Khoa Huan and Au Duong Lan in 1870-1875.
The first high school, Nguyen Dinh Chieu (formerly Collège de Mytho) and the first cai luong theater in the south were established in My Tho City in March 1879 and 1917 respectively.