On September 30, the Nguyen Trung Truc Festival was organized across the Mekong Delta Provinces of Kien Giang and Can Tho to mark the 145th death anniversary of national hero Nguyen Trung Truc.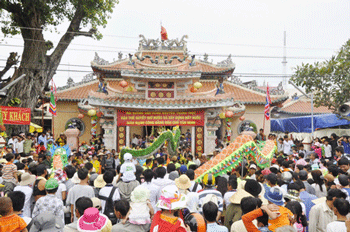 Festival commemorating the 145th death anniversary of national hero Nguyen Trung Truc opened in the Mekong Delta Province of Kien Giang. (Photo: SGGP)
This is an annual festival organized solemnly in many provinces of the Mekong Delta and this year opened at Lac Hong Park in Rach Gia City of Kien Giang Province. Many unique art programs were performed by Cai Luong Group from Kien Giang Province and by HCMC artists.
During the three days from September 30 to October 2, many traditional activities are marked to take place at the festival, which is expected to attract more than one million visitors.
According to the organizers, the festival has been funded by many benefactors and philanthropists. Besides, the festival also received much support from more than 4,500 persons who served free vegetarian meals during the festival.
On the same day, Binh Thuy Ancient Communal House located in Binh Thuy District of Can Tho City received a bronze bust of national hero Nguyen Trung Truc from Trinh Quang Tien's family (Hong Phat Construction Investment Corporation). The statue weighs 100 kilograms and is 0.7 meters high.
Nguyen Trung Truc (1839-1868) was the leader of the anti-French colonial uprising in South Vietnam and is remembered for his famous quote, 'Only when all the grass in Vietnam has been pulled out then will there be no Vietnamese to fight the aggressors.'