This is the name of a mobile exhibition organized by 15 agencies in Laos, Cambodia, Sweden and Vietnam that will open at the Vietnam Ethnology Museum in Hanoi from November 25, 2009 to February 25, 2010. The exhibition will then travel on to An Giang province, Cambodia, Laos and finally Sweden in 2012.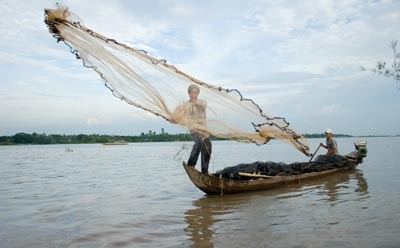 The photo "Fishing on Mekong River" is on the display (SGGP)
The exhibition reflects life along the Mekong River through nine stories. The materials used in this show are from the Cultural Heritage for Sustainable Development in Southeast Asia.
Fifteen agencies in Laos, Cambodia and Vietnam joined the World Cultural Museum of Sweden to organize this exhibition. Vietnamese agencies participating in this project are the Vietnam Ethnology Museum, the Cultural Heritage Agency, the Vietnam History Museum and An Giang Province Museum.