Art performances, a tourism fair, a photo exhibition on tourism and culture are among the attractions at the Mekong-Japan Tourism and Culture Festival which opened December 2 in the Mekong Delta city of Can Tho.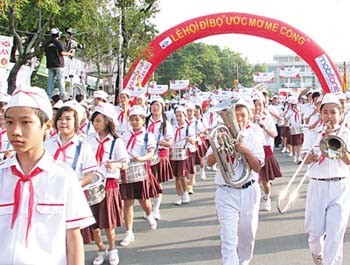 Can Tho City students go on a walk December 2 to raise funds for poor students in the Mekong sub-region that comprises Vietnam, Laos, Cambodia, Thailand, and Myanmar (Photo: SGGP)
The four-day festival will also feature volleyball and boat races, performances of southern music, a food festival, and a seminar on tourism development in the delta.
Deputy Prime Minister Truong Vinh Trong, who is also a Politburo member and the secretary of the Central Party Committee, attended the opening ceremony along with other central and local authorities and delegations from Cambodia, Laos, Myanmar, Thailand, and Japan.
The Mekong sub-region, a crowded area with a variety of ethnic groups and cultures, has rich natural resources and advantageous conditions for agriculture and forestry, Mr Trong said at the inauguration.
The same day, ministers from the five Mekong sub-region countries -- Vietnam, Laos, Cambodia, Thailand, and Myanmar -- and Japan held a meeting on tourism and cultural development.
Delegates concurred with a proposal by the Minister of Culture, Sport and Tourism Hoang Anh Tuan to develop the Mekong sub-region into a safe and friendly destination and strengthen cooperation with Japan to promote tourism and train human resources.
More than 5,000 people, including foreigners, Government and Can Tho officials, and local residents, walked to raise funds for poor students in the sub-region.
The city People's Committee donated US$10,000 each to Vietnam, Laos, Cambodia, and Myanmar for the purpose.
The Ministry of Culture, Sports and Tourism and the city People's Committee are organizing the event.
Related article:
Can Tho to hold Mekong-Japan culture fest in December