Melbourne, Australia, awarded ten grants of US$500 each to young artists in Ho Chi Minh City yesterday, announced the Australian Consulate-General.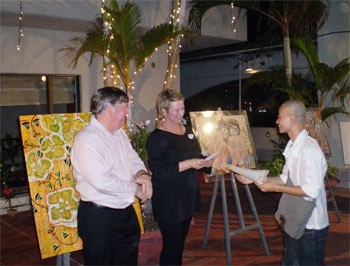 Le Vo Tuan (R) receives the grant from Australian Consul-Gneral Mr.Mal Skelly.
The artists included eight painters, Le Anh Can, Tran Thanh Canh, Le Huy Cuu, Hong Vu Ngan Khai, Mac Hoang  Thuong, Le Vo Tuan, Le Vo Tuyen, Tran Kien  Quoc, and two photographers, Nguyen Tuong Linh and Bui Huu Phuoc.
They also have a chance to introduce their artworks at displays in Melbourne.
"This project is one of a kind for local government in Australia and the City of Melbourne is proud to support this young artist project," said Melbourne Mayor John So.
"The grants capture the most creative and ambitious works of emerging artists who have had little exposure," he added.
It is the second time Melbourne has worked with the Australian Consulate-General in HCMC and the HCMC Fine Arts University to carry out the program.
Related article:
Australian City Sponsors Young Vietnamese Artists