A Memorial Temple for late General Vo Nguyen Giap and other national heroes was inaugurated in Tan An Commune in Vinh Cuu District in Dong Nai Province on December 22.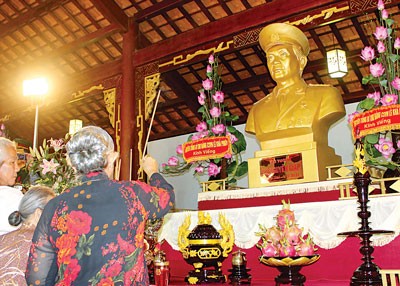 Memorial Temple for General Vo Nguyen Giap
The Temple is located on a hill at the upper reaches of the Dong Nai River and covers an area of about 450 square meters in An Vien Vinh Hang Cemetery.
The Temple is in Vietnamese-style traditional architecture, a wooden three-compartment house, which was built from October to December.
The construction is also a commemorative area for Senior Lieutenant General Tran Van Tra, Lieutenant General Nguyen Binh, female General Nguyen Thi Dinh and military commander and poet Huynh Van Nghe .
Provincial leaders and thousands of people attended the opening ceremony honoring heroes of the country.
In addition, the Vietnam History Science Association has cooperated with the Antique Association in Thanh Hoa Province and the Association of Lam Kinh Cultural Heritage to cast a bronze drum, a canon and a sword as offerings to late General Vo Nguyen Giap.
The drum depicts images of the life and revolutionary career of late General Vo Nguyen Giap, and glorious victories of the Vietnam People's Army .
The cannon is 163cms long and was presented to General and the 65cm long sword symbolizes 65 years since Vo Nguyen Giap was promoted as a General.
These sacred objects will be donated to the commemorative area of General Vo Nguyen Giap in Quang Binh Province.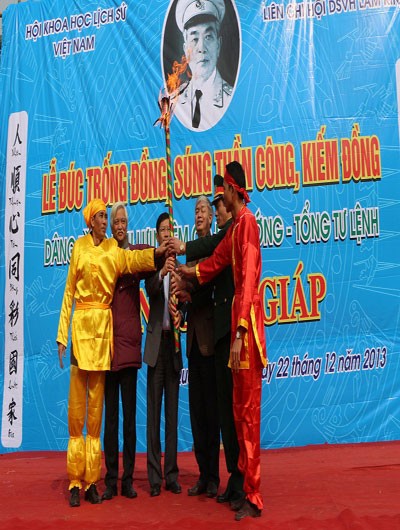 Casting ceremony of a bronze drum, a canon and a sword in Quang Binh