Meritorious Artist Nguyen Van Khanh or Khanh Kao passed away after a prolonged illness on June 9.
Born in 1918 in the central province of Quang Ngai, Khanh was deputy director of the Culture and Information Department and also chairman of the Cultural and Propaganda Association 'Gold Star of the Military' in Binh Thuan Province during the French War. He was also one of the first people to create films of the Vietnam sixth zone, and after his travels and completing of master's degree he also worked in the eighth zone.
After the Geneva agreement he came to North Vietnam in 1954, which was a new milestone in his art career when he switched to drama and became theatre director and in charge of the Folk Group 5.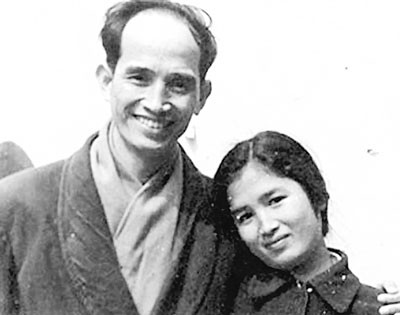 Meritorious Artist Nguyen Van Khanh with People's Artist Tra Giang, his loving daughter.
A number of plays staged by him became very popular: Thoai Khanh; Chau Tuan; Nguyen Tuong Nhan, winner of a Gold Medal; Doi Chim Cheo Beo; Nguyen Van Niem, silver medal award winner; Bong Trang (white flowers); Nguyen Khac Phuc , winner of first theatrical prize in the South.
After 1975, he worked at the Ho Chi Minh City Theatre as a member of the Assembly Standing Committee and in charge of Drama Newspaper in the south.
As a kind man and talented artist, and despite his old age, he was still writing scripts for children, which were brought into theatres and broadcast by Ho Chi Minh City Television and were highly appreciated.
With patriotism and sentimental attachment to the revolutionary cause for his entire life, Nguyen Van Khanh was always a good example for the younger generation and his students, including People's Artist Tra Giang, his loving daughter.
Tra Giang has inherited her father's talents and has scored many successes in both her drama and film career.