Chinese Malaysian actress Michelle Yeoh arrived in Ha Noi for a publicity campaign to encourage motorbike riders, especially children, to wear helmets for their own safety. Ms. Yeoh will spend March 15 to 19 in Viet Nam.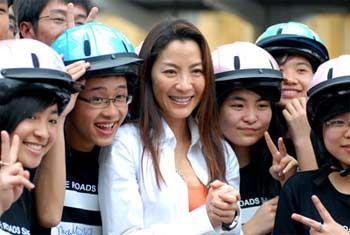 Michelle Yeoh and students of the Ha Noi's Amsterdam High School.
After talking about traffic safety at Amsterdam High School yesterday, Ms. Yeoh paid a visit to the Tay Son Primary School in the Hai Ba Trung District and offerred helmets to students. Afterwards, she took part in a press conference on the traffic safety at the Viet Nam Development Information Center.
The actress was born in Ipoh, Malaysia. A ballet dancer since the age of 4, she moved to London to study as a teenager. She has a bachelor's degree in dance from the Royal Academy of Dance.
She won the Miss Malaysia beauty pageant title and the Miss Moomba beauty pageant title in Melbourne, Australia in the early 1980s. She was also Malaysia's representative to the 1983 Miss World pageant held in London.
Her first on camera work was a 1984 commercial with martial arts actor Jackie Chan. In 1985, she began making action movies with D&B Films of Hong Kong.
She was chosen by People magazine as one of the "50 Most Beautiful People in the World" in 1997.

Her acting in the first film Yes, madam in 1985 was well reviewed. She also played in Police Story 3 with Jackie Chan. In the early 1990s, Yeoh became well known for performing her own stunts in the action films.
Ms. Yeoh has attempted to break into Hollywood through the pictures including in the James Bond film Tomorrow Never Dies in 1997, Crouching Tiger, Hidden Dragon in 2000, Memoirs of a Geisha in 2005.
Her visit is organized by the Asia Injury Prevention Foundation. The non-profit organization's goal is to reduce the number of people dying and being injured in traffic collisions by providing access to high quality affordable helmets, creating public awareness and education programs, and providing advocacy and information to governments that are considering changes to their existing helmet and road safety laws.
The foundation operates throughout Southeast Asia and has donated helmets to children in Viet Nam, Laos, Thailand and Cambodia.