Actor Mickey Hargitay, father of actress Mariska, who has just won an Emmy for Law and Order: Special Victims Unit, died at 80.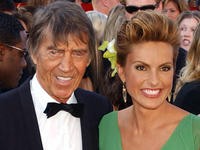 Mickey Hargitay (L), father of Mariska died
Born in Hungary in 1926, he emigrated to the US after World War II and was named Mr Universe in 1955. He married Hollywood starlet Mansfield in 1958.
Last month his daughter won an Emmy for Law & Order: Special Victims Unit.
"Words cannot express how saddened we are by the loss of Mickey," his family said in a statement.
"At the same time, we are so grateful for who he was and is to all of us, and the love he gave us in our lives.
He will continue to be our source of inspiration and strength."
California governor Arnold Schwarzenegger, who played Hargitay in 1982 TV movie The Jayne Mansfield Story, has offered his condolences.
"Mickey was such an inspiration and always had such a positive attitude," the actor-turned-politician said in a statement.
"He was a role model of mine for being a successful immigrant who came to this country and pursued his dreams."
A carpenter and plumber by trade, Hargitay had three children with Mansfield during their six-year marriage
They also appeared in three films together, most notably 1957's Will Success Spoil Rock Hunter?
Mansfield died in a car crash in 1967. The couple had three children in all.
More recently Hargitay appeared with his daughter Mariska on an episode of Law & Order: Special Victims Unit.
The latter paid tearful tribute to her father while accepting her Emmy in August, saying he was "the reason I'm standing here today".
The 42-year-old described her father as "a bit of a superhero" in a radio interview last year.