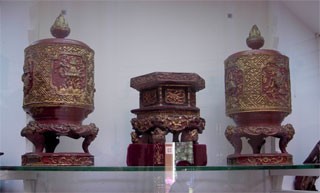 These are the kinds of antiques that get stolen from museums and smuggled out of the country (Photo: U Phuong)
The Ministry of Culture and Information's Inspectorate yesterday ordered its city and provincial departments and related government agencies to do more to prevent the illegal sale of valuable antiques and their smuggling out of the country.
Inspectorate chief Vu Xuan Thanh said that, in recent years, artifacts had been stolen from various museums and historic sites and smuggled abroad.
The thieves are not always successful, though. In one recent case, police managed to recover more than 400 stolen objects of antiquity.