The Ministry of Culture, Sports and Tourism held a year-end conference in Da Nang City on December 28 to evaluate the sectors' 2009 performance and discuss plans for 2010.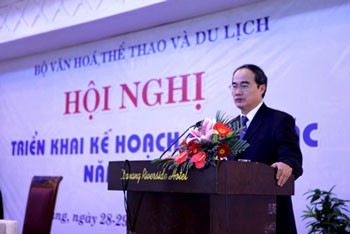 Deputy Prime Minister Nguyen Thien Nhan attends the year-end meeting held by the Ministry of Culture, Sport and Tourism in Da Nang on December 28.
Minister Hoang Anh Tuan said culture, sport and tourism industries have made significant achievements this year in promoting images of the country abroad. Mr. Tuan added that it was commendable Vietnam ranked second at the 25th Southeast Asian Games (SEA Games 25) in Laos.
This year also saw amendments and supplementary articles added to the Cultural Heritage Law, Intellectual Property Law, Cinema Law, and the Cultural Development Strategy until 2020 among others.
The report said there were 3.8 million foreign visitors to the country this year, a decrease of 11.5 percent over last year. Domestic tourist numbers were up 19 percent, however, to 25 million.
Vietnam's tourism sector earned around VND68,000-70,000 billion (US$3.6-3.7billion), an increase of 10 percent over the previous year.
The country hopes to welcome about 4.6 million foreign visitors and 28 million domestic tourists in 2010.
Ho Chi Minh City received only 2.52 million international tourists, accounting for 84 percent of the year's target. The city expects to attract around 3.5 million foreign visitors and 10 million local tourists in 2010.
Culture, sports and tourism plans for next year include working with relevant departments to celebrate the 1,000th Thang Long-Hanoi Anniversary, taking part in the 16th Asian Games (ASIAD 16) in Guangzhou, China, promoting tourism and organizing other events in the country.
The Ministry also announced on December 27 Vietnam's 10 most outstanding cultural, sports and tourism achievements of 2009:


1. The NA promulgated and amended laws relating to the Law on Cultural Heritages, Intellectual Property, and Cinema. The PM issued Decision 581/QĐ-TTg approving the Cultural Development Strategy to 2020 and Decision 1272/QĐ-TTg on listing 10 special national cultural and historical sites (stage 1).

2. Quan ho Bac Ninh singing (Bac Ninh folk love duets) and Ca tru (ceremonial songs) recently received recognition as "an intangible world heritage" by the United Educational, Scientific and Cultural Organization (UNESCO). Ca tru has been listed as a "cultural heritage in need of urgent safeguarding". UNESCO will also send representatives to attend the 1,000th anniversary of Thang Long-Hanoi.

3. Diplomatic cultural activities held in the "Year of Cultural Diplomacy" including Vietnamese Week in Russia, the UK, Laos, South Africa, Venezuela and Brazil; Vietnam's cultural and artistic activities in China, Spain, Sweden and Italy; the "Meet Vietnam" Program in San Francisco, US; the Republic of Korea's Cultural Week and Cambodia's Cultural Week in Vietnam; establishment of the Vietnam traditional music orchestra and its performance in Laos.

The New York Philharmonic, the US' oldest orchestra and one of the best-known orchestras in the world, traveled to Vietnam for performances at the Hanoi Opera House October 16-17.

4. A series of cultural and artistic activities marked the nation's most prominent events including the 50th anniversary of the opening of the Ho Chi Minh Trail; 55th anniversary of the Dien Bien Phu Victory; and the Quang Nam Culture-Tourism Week ahead of the 1,000th anniversary of Thang Long-Hanoi.

5. Special commemorative days were celebrated including April 19, which was named Culture Day of Vietnam Ethnic Groups; the International Gongs Festival 2009 held in the Central Highlands province of Gia Lai; the 1st Việt Nam Rice Festival in the Mekong Delta province of Hau Giang; Mekong-Japan Culture and Tourism Days in the Mekong Delta city of Can Tho; and the Mrs. World Pageant 2009 in the southern province of Ba Ria-Vung Tau.

6. The locally made movie Dung dot (Don't Burn) won the Fukuoka Audience Award at the Fukuoka International Film Festival in Japan. Vietnam won four first prizes out of seven awards at the international competition held in Jakarta, Indonesia.

7. Vietnam hosted the 3rd Asian Indoor Games (AI Games 3) and ranked second overall.

8. Vietnamese athletes pocketed 215 medals with 83 golds and ranked second at the 25th Southeast Asian Games (SEA Games) in Laos.

9. The ASEAN Tourism Forum 2009 (ATF-09) was held along with the tourism stimulus program "Vietnam Impression."

10. Hạ Long Bay was listed in the final round of voting for 7 World Natural Wonders while Lang Co Bay in Thua Thien-Hue Province was recognized as a world Beautiful Bay.