The Ministry of Culture, Sports and Tourism is calling for candidates to run for the position of Tourism Ambassador for the period 2013-2014.
Candidates can apply with their resume and application for the position, along with qualifications and diplomas and a report on activities related to the promotion of culture, sports and tourism, or certificates of merit for social and professional activities.
Based on these details, the Ministry of Culture, Sports and Tourism will consult relevant agencies and journalists specializing in culture and tourism to make a decision by early March.
Tran Nhat Hoang, director of the Centre for Promotion of Culture, Tourism and Sports under the Ministry of Culture, Sports and Tourism told SGGP reporters that so far only three persons have participated in the contest.
They are former ambassador Ly Nha Ky, an actress from Ho Chi Minh City; independent candidate Miss Tourism cum Miss Ethnic Vietnam 2011 Huynh Thi Ngoc Han, currently working in Australia, and English teacher Do Thi Hong Thuan, from Hanoi.
Ngoc Han has two master's degrees in International Business and Public Relations in Australia and is international student ambassador in Brisbane, Queensland. She was granted a certificate of merit by the Mayor of Brisbane for her outstanding contributions as an international student ambassador.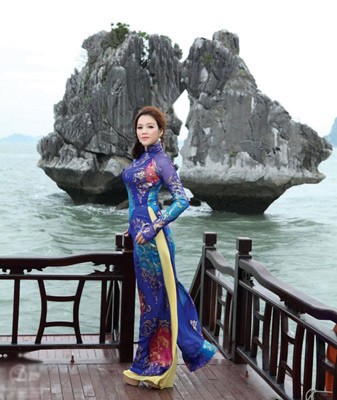 Ly Nha Ky poses at Ha Long Bay (Source: SGGP)
Ngoc Han is working in the area of community relations for the Brisbane City Council and an international business consultant in Australia.
As Tourism Ambassador 2012, actress and businesswoman Ly Nha Ky said that she is willing to continue to serve as the Ambassador of Tourism in 2013-2014.
Hoang added that in the situation of current difficult economic conditions, in addition to their task to communicate the goals of Vietnam tourism to the world such as advertising for Ha Long, Ninh Binh tourism spots, Vietnam's tourism authorities require that whoever becomes the tourism ambassador must have the ability to connect through to all strata of tourism.
"Many people have made telephone calls to nominate singers and fashion models My Tam, Ho Ngoc Ha, for this position. These singers are well-known, successful in the career, popular, but we have to say that they are working hard in their jobs, while the tourism ambassador have to spend a lot of time on assigned tasks and few people can sacrifice their time for this", Hoang explained.
According to some local newspapers, there are two qualified candidates for this post, singer My Tam and Miss Sports Thu Huong. However, they have not applied for the position yet.
The Ministry of Culture, Sports and Tourism has said that actress Ly Nha Ky well fulfill her role and was very enthusiastic for the promotion of tourism at home and abroad in 2012.
As the fund for promoting Vietnam's tourism is still limited, Ly Nha Ky organized several events and seminars abroad to promote tourism by her own money, especially to call for votes for Ha Long Bay as a new natural wonder of the world.
If there are only two candidates, the advantage is in favor of actress Ly Nha Ky. While Huynh Thi Ngoc Han is studying and working in Australia and not many people know about her, the name and images of Ly Nha Ky has "covered" the media for a long time
On March 14, the Ministry of Culture, Sports and Tourism is expected to hold a press conference about the three candidates for the position of Vietnamese tourism ambassador for the 2013-2014 term.