On Friday the Ministry of Culture and Information announced what it calls the country's ten most significant cultural events of 2006.
They are:
1. The successful organization of cultural, artistic and related events to celebrate the 10th National Party Congress, the APEC summit, and Viet Nam's membership of the World Trade Organization.
2. The Politburo's Conclusion No. 41 dated October 11, 2006 and Prime Minister Nguyen Tan Dung's Directive 37/2006/CT-TTg dated November 20, 2006 on ways to improve leadership and control of news and other media organizations.
3. The National Assembly's passing of the Law on Cinematography.
4. Government Decree 11/2006/ND-CP on promulgating regulations on cultural activities and services, and Decree 56/2006/ND-CP on imposing fines for violations of the rules governing culture, information and related activities.
These decrees are considered to form an important legal basis for restoring order to the cultural services market and nurturing a healthier social and cultural environment.
5. The Prime Minister's plan to build a National Museum of Vietnamese History covering 10 hectares of a new urban area west of Ha Noi's West Lake. Construction of the museum is set to begin late 2007.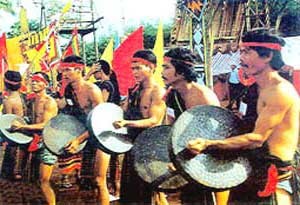 Gong culture's values is an integral part of Viet Nam's Central Highlands ethnic minority people.
6. The ceremony to receive UNESCO's certificate recognizing the Central Highlands gong as a Masterpiece of Oral and Intangible Heritage of Humanity.
7. The success of the first cultural festival for the Mong ethnic group.
8. The 24th National Artistic Photo Exhibition and the Lacquer Painting Exhibition 2006.
9. The successful promotion of public participation in cultural activities.
10. The success of the 2nd National Festival to Honor Outstanding Youths working in the cultural sector.
After announcing the top-ten events, Mr. Do Quy Doan, Minister of Culture and Information, pointed out that major problems remained to be fixed in the cultural arena like violations of copyright and the Press Law, the slow pace of construction with several national cultural works, and the illegal use of land belonging to historic sites.