Thirty contenders for Miss Earth 2007 will spend three days in Viet Nam from October 30 competing for minor titles in the world's third largest beauty contest.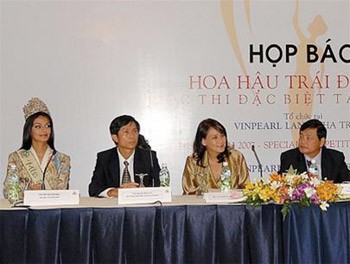 The press conference of Miss Earth 2007 in Ho Chi Minh City yesterday.
The young women hoping to be the 2007 Miss Earth will gather at the Vinpearl Resort near Nha Trang to vie for the titles of Miss Beauty for a Cause, Miss Fashion, Miss Fitness, Best in Ao Dai (a traditional Vietnamese outfit) and Miss Charm.
During their stay, the contestants will attend charity functions and campaign for environmental protection by planting trees and cleaning up beaches.
The judges will include reigning Miss Earth Hil Hernandez, the pageant's chief organizer, Mr. Ramon Monzon, and representatives of Viet Nam's Ministry of Sport, Culture and Tourism, Thanh Nien newspaper, and Khanh Hoa, the province that houses Nha Trang.
"This is the first time that Viet Nam has been chosen to host a major beauty contest. Your country is well-known for its beautiful scenery and its efforts to protect the environment. I hope that it is a good opportunity for promoting Viet Nam to the world and sending a message of environmental protection to the people around the world," said Ms. Lorraine E. Schuck, deputy chairwoman of the Miss Earth board of management.
While 30 of the contestants are posing before the cameras in Viet Nam, the other 60 contestants will be doing much the same things in the Philippines. They will be divided into two groups of 30 contestants, one going to the northern part of the islands, and the other to the southern end.
Viet Nam Television will broadcast the award presentation for four of the minor titles live from the Vinpearl Resort on November 1, but not for Miss Beauty of a Cause. Her name will be announced at the contest's grand finale at the Philippines University Theatre on November 11.

Related article:
Photogenic Lass Vies for Miss Earth Title