The organizers of the Miss Universe Vietnam 2015 pageant have announced the winner will receive a crown inlaid with gemstones worth VND2.2 billion (nearly US$100,000).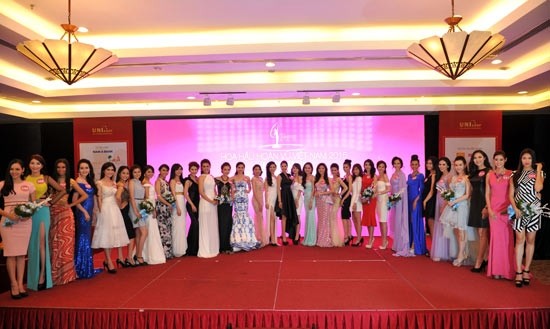 Top excellent contestants are chosen in the Southern regional qualifying round. (Photo: Sggp)
The crown is inlaid with five special pearls representing five big cities in the country; and 58 pink gemstones being symbols of 58 cities and provinces nationwide. There are also 54 pearls symbolizing 54 nationalities in Vietnam, 2015 gemstones marking the year of 2015 and 18 conch pearls representing 18 Hung Kings.
The winner will also receive a cash prize of VND10 billion.
70 contestants will participate in the final round that is scheduled to take place at Diamond Bay resort in the coastal city of Nha Trang from September 15 to October 3.
Candidates will compete in categories including traditional Vietnamese dress (Ao Dai), swimwear, evening dress and interview.
The winner will be representative of Vietnam to take part in Miss Universe 2015.
Miss Universe Vietnam 2015 is organized after a seven-year halt. Singer Thuy Lam won the Miss Universe Vietnam which was held for the first time in 2008.