Miss Universe Vietnam 2015 Pham Huong attended a launching ceremony for Pangolin protection in Hanoi yesterday held by WildAid and CHANGE as a goodwill ambassador.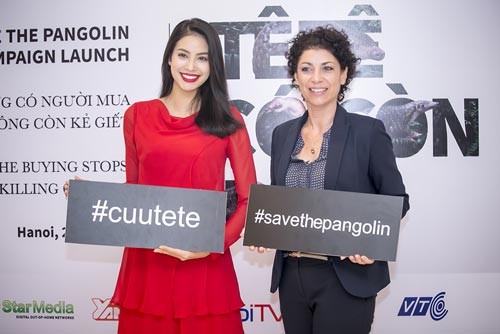 (Photo: SGGP)
Comedian and TV host Tran Thanh, singer Thu Minh, and representatives from general public were also present at the meeting.
Miss.Pham Huong spent time talking with singer Thu Minh, one of volunteers amongst Vietnamese singers and actors in wildlife protection projects. Comedian and TV host Tran Thanh is also an ambassador of the project.
Miss. Pham Huong is proud of to be goodwill ambassador for Wildaid and CHANGE's project in general and the pangolin protection project in particular. She expected her voice and influence can spread an active massage to the public in curbing pangolin and wildlife consumption.
WildAid is an international non-profit organization. Their mission is to prevent the illegal wildlife trade within our lifetimes. It  has launched a new campaign to raise the public awareness about the impact of the consumption of pangolin meat and scales in an effort to reduce demand for pangolin products in Asia.
Change is a non-governmental organization belonging to Vietnam Union of Science and Technology Association (VUSTA). Change aims to change the community's behaviors and media upon environment issue and how to raise young Vietnam people's awareness in protecting environment and developing initiatives in localities.

Globally well-known celebrities namely actor Edward Norton, Prince William and David Beckham also joined in Wildaid's campaign.