Miss Dayana Mendoza, Miss Venezuela, was awarded the title "Charming Ao Dai" at a presentation of the Vietnamese national costume at Hoa Binh Theater in District 10 on Tuesday.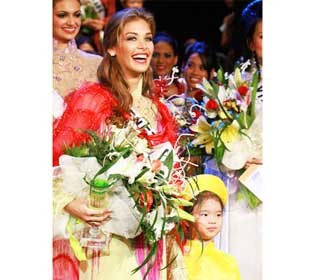 Miss Venezuela is awarded the title "Charming Ao dai"
Contestants from Thailand, Indian, Kazahhstan and Viet Nam were also among the top five. The 22-year-old Dayana won the hearts of the audience with her figure, friendly smile and graceful performance.

Eighty young women wore beautiful ao dais from collections by Vietnamese designers Si Hoang, Lien Huong, Vo Viet Chung and Thuan Viet.

The contestants will travel to Hoi An Wednesday to participate in various competitions. They will be in Ha Noi on Thursday, Ha Long on Friday and Saturday, and will arrive in Nha Trang on Sunday.

English pop singer Melanie Brown, best known as Spice Girl Mel B, will speak on July 14, the final night of the contest. She will be on stage with Jerry Springer, the host of a U.S. television show.


Related articles:
Auction Features Gifts Donated by Miss Universe Contestants
2008 Miss Universe Competition commences in Viet Nam
Beauties of Miss Universe Try on Ao Dai
Miss Universe Contestants Begin Arriving in Viet Nam
Preparations Made for Miss Universe 2008