All of Vietnamese women (including Overseas Vietnamese)  between the age of 18-27, single, without children and have at least high school education, are eligible to take part in Miss Viet Nam 2006 contest.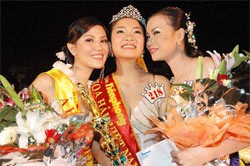 Miss Viet Nam 2004


It is the 10th contest organized by Tien Phong Newspaper. The final round will take place in Hon Tre resort, Nha Trang City, Khanh Hoa province, at the end of August, 2006. 
The Miss Viet Nam 2006 Award will include a cash prize of VND 80 million, and a trip to France or Japan.