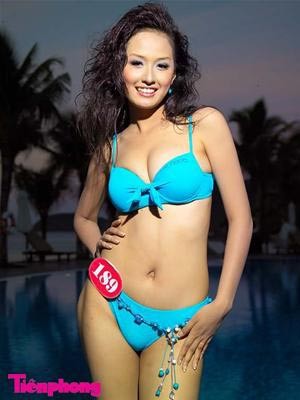 Mai Phuong Thuy who is 1.79 meters from tip to toe.
The producers of the Miss Viet Nam pageant say they have learned much from studying international beauty contests like Miss World and have incorporated some new ideas into the 2006 competition, which reaches its climax this Saturday night.
For one thing, this is the first time they have allotted two weeks for the national final. Over the past 12 days the contestants have been vying for the minor titles of Miss Photo, Miss Sea, Miss Sport and Miss Friendliness.

Prior to the final fortnight, Tien Phong newspaper ran a contest to find suitable questions from the public for the personality and character quiz in the final.

The idea is that the questions won't test the knowledge of the contestants but rather prompt answers that reveal how the beauties on stage would approach and try to solve the problems of young people and deal with other issues of importance.
"Most of the contestants are gorgeous, of course, but they also radiate confidence, intelligence and strength. They have at least a university education and speak English fluently," said Mr. Duong Ky Anh, editor in-chief of Tien Phong.
"Their figures are perfect, and they're all over 1.7 meters tall; in fact, one of them is 1.79 meters from tip to toe. They have great stage presence and make a deep impression on the audience and the jury.
"Still, they have their weak points when compared to beauties in other countries, namely language, communication skills and deportment.
"But then, Miss Vietnam 2004 Nguyen Thi Huyen came 11th in the Miss World contest so there's hope for the future," Mr. Anh said.
The final night of Miss Viet Nam 2006 will be shown on Channel VTV3 this Saturday from eight o'clock.
Until then, the public can vote for their favorite contestants by writing to the head office of Tien Phong newspaper, 15 Ho Xuan Huong Street, Ha Noi, going to the paper's website at www.tienphongonline.com.vn, or writing to Viet Nam Television, 43 Nguyen Chi Thanh Street, Ha Noi.
Related articles:
Miss Viet Nam Final Gets Underway At Island Resort
Over 3,000 Beauties Join Miss Viet Nam 2006 Contest